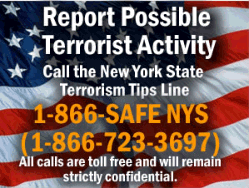 24/7 Hotline Gathers Information from the Public About Suspected Terrorist Activity
A Statewide Public Security Tips Hotline was announced on September 17, 2002 that enables citizens from throughout the State to report information about suspected terrorist activity.
The toll-free hotline, can be reached by calling 1-866-SAFENYS or 1-866-723-3697.
In New York City, residents should call the New York City Police Department's hotline, 1-888-NYCSAFE.
Read more at SAFENYS / CrimeWatch.