TECHNOLOGY ADVANCING PRACTICES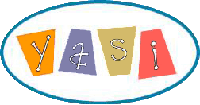 YASI - Youth Assessment Screening Instrument
In New York State, approximately 35,000 0- 40,000 juvenile cases are seen annually at intake by local probation services. There has been growing recognition among probation professionals that a comprehensive assessment protocol is an essential first step toward achieving the goals of public safety, youth accountability, and competency development. Assessment increases the outcome predictability while supporting professional judgment, and assists to individualize targets for intervention.
The Youth Assessment Screening Instrument (YASI) is a systematic set of assessment, PDI, case planning tools for use with PINS and JD cases at juvenile intake, investigation and supervision. YASI brings together good probation practice with research regarding assessment, prevention, and effective intervention. YASI was initially developed, field-tested, and validated in Washington State based upon empirical research, and has been customized and enhanced to meet the needs of New York State. YASI provides a framework to incorporate into juvenile practice the research findings on risk for recidivism, protective factors, and case planning to improve outcomes for PINS and JD youth. YASI is currently being used in 57 jurisdictions.
Aggregate YASI data is now available to county probation directors and other state and local policy makers for the purposes of quality assurance, data analysis, local planning and program evaluation.
Long-Term Validation of the Youth Assessment and Screening Intrument (YASI) in NYS Juvenile Probation - This document reports on a two-year outcome validation of the tool based on a large sample of youth for which juvenile justice outcomes were measured at least 2 years following assessment with YASI.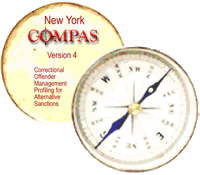 COMPAS - Correctional Offender Management Profiling for Alternative Sanction - An Adult Risk and Needs Assessment
On any given day, probation departments in New York State supervise an average of 130,000 adult probationers. Typically, information is gathered about the individual's previous involvement with the criminal justice system, substance abuse treatment needs, parental status, housing, employment and many other circumstances that may give an indication as to how a person might interact with his/her environment. This information is used at all stages of the criminal justice process such as: assessing likelihood of failing to appear if released on bail, when compiling information for the pre-sentence investigation and sentencing recommendations, for case planning while under community supervision, and when considering changes in supervision level or early release are the primary examples.
At the request of probation departments, OPCA sought out standardized software that could be used to collect such information, as a complement to the professional judgment of the probation officer. The subsequently selected software, COMPAS, was developed by Northpointe Institute for Public Management, Inc., and became available to departments through OPCA for use in July of 2001. COMPAS is a standardized risk and needs assessment tool covering four different types of risk (violence, recidivism, failure to appear in court, and community non-compliance), and 18 different criminogenic needs. The software also includes case planning and reports generation features.
COMPAS is unique because it was developed for, validated, and normed on a representative sample of offenders in New York State. OPCA and Northpointe continue to work together to refine the software. OPCA staff provide training, in conjunction with local master trainers, to front line and administrative staff at local probation departments.
To date, nearly 30 departments are actively using COMPAS, and three more are currently planning implementation. During the second half of 2004, OPCA expects to provide Implementation Training to more departments and to continue training probation staff in using the instrument. Several additions to the software are planned including development of an assisted system to integrate COMPAS results with portions of the pre-sentence investigation and an enhanced capability to use aggregate data in management decision-making and program development.
eJusticeNY
In October 1999, the New York State Division of Criminal Justice Services (DCJS) introduced a new information service which has since dramatically changed the way New York's State and local criminal justice agencies access criminal case information maintained by DCJS. eJusticeNY leverages today's internet technology, to create a single portal through which police, court and other authorized personnel can access a broad range of criminal case related information. eJusticeNY serves as New York State's central portal to criminal justice databases including the Criminal Case History (CCH) and Sex Offender Registry (SOR).
Through ejusticeNY, probation professionals also have password-protected access to the Probation Services Suite which provides OPCA documents and funding application timelines. eJusticeNY is a restricted application on a secure network, reserved for criminal justice agencies and personnel who have been authorized and certified to access the system's databases and information services. The data provided through eJusticeNY is NOT available via the agency's public website. If you believe you are an authorized criminal justice agency and would like more information about obtaining access to eJusticeNY services, contact DCJS Customer Support at 1-800-262-3257.
Voice-Diagnostic Interview Schedule for Children (V-DISC)
The Voice-Diagnostic Interview Schedule for Children (V-DISC) is offered to counties by Columbia University as a diagnostic tool used in a variety of juvenile justice settings to identify youth at high risk for psychiatric conditions. These conditions may further contribute to their risk of offending and/or their rehabilitation. The V-DISC is a comprehensive, structured interview that uses DSM-IV criteria to screen for more than twenty mental health disorders as well as suicidal ideation found in children and adolescents. In counties that are using V-DISC, youth at Probation who score moderate to high-risk on the Youth Assessment Screening Instrument are administered the V-DISC. The V-DISC is self administered by youth, who hear questions through headphones while reading them on the screen and respond through the computer keyboard. This method allows them to complete the V-DISC interview independently regardless of their reading skill level. Research has shown a high degree of accuracy in diagnosis aided by the comfort level encouraged experienced by youth through direct computer input of responses without other human interaction.
AutoMon's Caseload Explorer- Case Management System
Caseload Explorer is a comprehensive case management system that supports all probation functions from pre-trial to restitution, fines and fees, both criminal and family court investigation and supervision, and is specifically configured to meet the needs of all New York Counties. The primary purpose of the system is to support the day-to-day functions of probation officers while also providing valuable management information to supervisors and managers of the departments. The system is also designed to produce State-mandated reports, integrate with Integrated Probation Registrant System (IPRS) and YASI.
Caseload Explorer is developed by AutoMon of Scottsdale, Arizona, and configured for New York in conjunction with the NYS Division of Probation and Correctional Alternatives (OPCA). As of May 2010, the system has been implemented in 41 county Probation Departments across New York State.
Integrated Probation Registrant System (IPRS)
Adults newly sentenced to probation must be registered with New York State by the local probation departments. For the past decade, these registrations have been maintained in a computer system called the Client Database System (CDS). The registration of probationers facilitates notification to supervising probation officers should a probationer be re-arrested for an offense that requires the offender to be fingerprinted. Probation departments that have NYSPIN terminals have been able to register new probationers electronically. Departments that do not have NYSPIN terminals have manually completed the forms and sent them to the Division of Criminal Justice Services (DCJS) for the data to be entered. DCJS and OPCA are working with county probation officials to create a more modern database that incorporates the newest web-based technologies called the IPRS. This new database will be integrated into NYS' central portal for criminal justice, eJusticeNY. This integration will provide probation officers immediate access to a wider variety of law enforcement-related information resources from their desktop computers. This will assist probation officers