Missing Persons Clearinghouse
1-800-346-3543

The Missing Vulnerable Adult Alert Program
The Missing Vulnerable Adult Alert Program is activated when a vulnerable adult (at least 18 years old or older) with Alzheimer's disease, dementia, autism or other cognitive disorder, brain injury or mental disability is reported missing and is at credible risk of harm.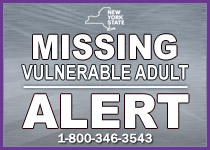 The Missing Adult Alerts function exactly as Missing Child/College Student Alerts. Information about the missing adult is distributed electronically throughout New York State to every police agency, television and radio stations and newspapers, New York State Thruway travel plazas/toll barriers, airports, bus terminals, train stations, border crossings, Alert subscribers and others within minutes. Information is also posted to the DCJS website.
Unlike an AMBER Alert, radio and television station managers decide if – and when – to broadcast Missing Adult Alert information and Lottery terminal displays are not activated. While the maximum length of time for an AMBER Alert is eight hours, a Missing Adult Alert can remain active for up to 72 hours. With both alerts, highway signs are active for up to eight hours.
Missing Adult Alert Frequently Asked Questions for Law Enforcement
Missing Adult Alert Frequently Asked Questions for Family and Caregivers
Visit www.nyalert.gov for more information or to register to receive Alerts.
Missing Vulnerable Adult Alert and AMBER Alert activation regions are identical.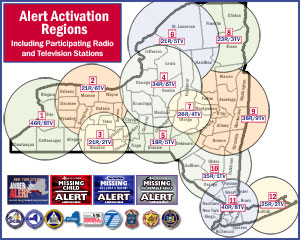 If your loved one is missing:
Call 9-1-1 or your local police agency to report that your loved one is a missing vulnerable adult. If you believe your loved one's life is in imminent danger, ask the police agency to request activation of a NYS Missing Vulnerable Adult Alert and to enter him or her into the National Crime Information Center (NCIC) Missing Person File.
Provide his/her name and description, including height, weight, hair and eye color, date of birth and unique identifiers such as eye glasses and walks with a cane, for example.
Describe what the missing person was wearing when last seen, and whether he or she may be driving a vehicle.
Describe the vehicle they may be driving: make, model and license plate number.
Provide law enforcement with information about special interests or common themes the missing person may have. For example, the missing person may be attempting to go to a former residence or place of employment.
Search areas that the person may go. Alert neighbors to assist with the search.
According to the Alzheimer's Association, approximately six in 10 patients with dementia will wander at least once, and about half of those who wander, and are not found within 24 hours, may suffer serious injury or even death.
A recent study conducted by the Interactive Autism Network reports that approximately half of all children with autism will leave a safe environment and 25% of those reporting parents state that they had significant concern about the safety of their child during the missing episode.
Additional Resources
Alzheimer's / Dementia
Autism/Down Syndrome:
New York State Office for People with Developmental Disabilities
New York State Office of the Aging
New York State Office of Mental Health
New York State Office of Children and Family Service
NY ACTS – An Initiative for Adults and Children with The Autism Spectrum