Contact:
John Caher, Director of Public Information, (518) 457-8415; (518) 225-5240 (cell)
For immediate release:
September 29, 2009

DCJS Wins "Best of New York" Award
Crime Analysis Center initiative cited by Center for Digital Government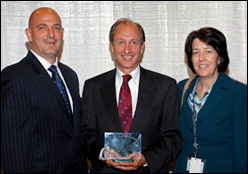 Deputy Commissioner John Bilich;
Les Hoffman, Project Director / Public Safety;
Deputy Commissioner Anne Roest
The Center for Digital Government has recognized the Division of Criminal Justice Services (DCJS) for a groundbreaking data-sharing project that allows multiple law enforcement agencies to access and share millions of records.
DCJS recently received a "Best of New York" award for the digital collaboration central to the success of the four Crime Analysis Centers that have opened over the past year.
Located in four large upstate counties – Erie, Monroe, Onondaga and Albany – the centers provide law enforcement in those communities with a centrally located unit responsible for conducting in-depth analysis of all county crime data. The Crime Analysis Centers build upon the success of Operation IMPACT, the state's premier crime-fighting program upstate and on Long Island, and expand the key philosophies of that initiative – accurate use of timely crime data, use of technology to complement and enhance traditional crime-fighting strategies – to all law enforcement agencies in the county.
"Through the Crime Analysis Centers, we have extended the intelligence-led policing model that Governor Paterson and I embrace to Buffalo, Rochester, Syracuse, Albany and the surrounding areas," said Deputy Secretary for Public Safety Denise E. O'Donnell. "These centers help law enforcement executives make informed decisions regarding strategic long-term planning and tactical day-to-day deployment. They help investigators solve crimes, and they provide the officer on the street with timely and vital information."
The four Crime Analysis Centers have been provided with VisuaLinks and DIG, products provided by Visual Analytics Inc. of Frederick, Maryland. Those products combine a browser-based search tool with a pattern discovery and visualization tool. Through Visual Analytics, 87 crime analysts across the state are using the new systems, accessing data on 56 databases. That information results in rapid discovery of crime hotspots and potential hotspots, identification of crime patterns before they become crime trends, and daily briefs on crime data so law enforcement officials can make informed tactical and deployment decisions.
The Center for Digital Government recognizes top technology teams, collaborators, and leaders from state and local governments and their projects, to be the recipients of its esteemed Best of New York awards. The annual awards recognize contributions, best practices, and work of distinction in the information technology arena.
This year's winners were chosen from dozens of entries submitted for the 2009 Best of New York awards program. Final selections were made based on criteria that included collaboration among organizations, innovative uses of technology and projects that best advance services provided to the public, according to Cathilea Robinett, executive vice president of the Center.
"This year's Best of New York awards show that government agencies are working more closely with each other and for the benefit of the citizens and businesses they serve. At the same time, they are doing the hard work of keeping systems and the data they hold safe through a disciplined approach to cyber security," Ms. Robinett said. "The collaboration and innovation reflected in this year's winners have improved the quality, speed and cost of services to citizens. They are well suited to these times."
The Division of Criminal Justice Services has now received a Best of New York award for two straight years. Last year, Nancy J. Campbell, assistant director of IT Services, received an award for Excellence in Rapid Project Delivery. Ms. Campbell, who passed away shortly after receiving the award, was recognized for her role in devising a reliable operational disaster recovery plan.
Les A. Hoffman, Director of IT Projects/ Public Safety at DCJS, accepted the award on behalf of the agency.
###