Contact: John Caher, Press Office
(518) 457-8415
john.caher@dcjs.ny.gov
www.criminaljustice.ny.gov
For immediate release: Monday, May 21, 2007
LAW ENFORCEMENT OFFICIALS COMPLETE ADVANCED EDUCATION PROGRAM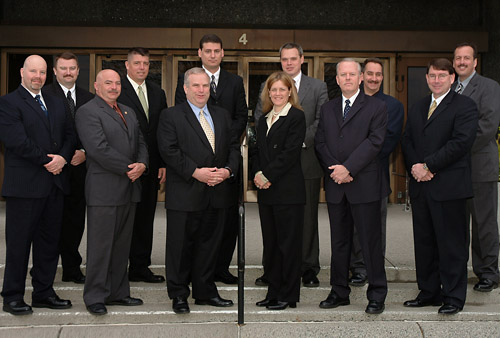 Front Row: Captain William Menge – New York City Department of Corrections; Deputy Chief Daniel Chambers – University at Binghamton Police Department; Captain David Burpee – White Plains Police Department; Captain Evelyn Mallard – New York State Police; Lieutenant Frank Edwards – Hempstead Police Department; Staff Inspector David McBath – New York State Police Back Row: Lieutenant Brian Uhrmacher – Greece Police Department; Major James Szczesniak – Livingston County Sheriff's Office; Captain James Voutour – Niagara County Sheriff's Office; Lieutenant Walter Teppo – New York State Police; Lieutenant Scott Florence – New York State Environmental Conservation Police; Lieutenant Egidio Tinti – Kingston Police Department; Missing from photo: Chief Robert Thomas – Fort Plain Police Department

Thirteen law enforcement officials from around the state who spent the last nine months studying a variety of criminal justice and management topics graduated Saturday from the New York State Law Enforcement Executive Institute.
The institute, which was developed as a joint venture by the New York State Association of Chiefs of Police, New York State Sheriff's Association, New York State Police, and the state Division of Criminal Justice Services, was created to enable current and future future law enforcement executives to develop their own personal leadership competencies to influence positive change in accomplishing the agencies mission and reinforcing its core values.
Since September, officials selected for the program have taken part in weekend classroom sessions and computer-based distance learning. The curriculum, developed in conjunction with the John Jay College of Criminal Justice, offered college-level learning with practical application in such areas as legal issues, human resources, ethics, communications, strategic planning, budget and finance, leadership theory, contemporary public safety issues and statistics/ research methods. Graduates completed extensive reading and writing assignments, case studies, oral presentations, group projects, and a final comprehensive research project.
The Law Enforcement Executive Institute is among myriad training programs operated out of the DCJS Office of Public Safety. For the first quarter of this year, the Office of Public Safety has conducted 25 training courses for 1,116 officers. The most popular training courses offered the first quarter included: Search Warrants Training (264 officers) and Legal Issues for New York Law Enforcement Officers (194 officers).
DCJS Commissioner Denise E. O'Donnell and Deputy Commissioner Dr. Cedric L. Alexander are committed to offering as diverse a training program as possible to as many officers as possible.
"We are committed to ensuring that police officers in New York are the best trained in the nation, continuing a longstanding tradition of excellence in this state," Commissioner O'Donnell said. "Our training programs are timely, current and responsive to the changing needs of our law enforcement officers."
New York was the first state in the country to develop a law enforcement accreditation program. In 2006, DCJS provided courses in such subject areas as street gangs, narcotics interdiction, crime scene evidence collection, intelligence collection, homicide investigation, the tracing of hidden assets, and human trafficking. Over 6,600 officers were trained. Additionally, 118 law enforcement agencies have been accredited.
Graduating Saturday from the Law Enforcement Executive Institute were:
Captain David Burpee – White Plains Police Department
Deputy Chief Daniel Chambers – University at Binghamton Police Department
Lieutenant Frank Edwards – Hempstead Police Department
Lieutenant Scott Florence – New York State Environmental Conservation Police
Captain Evelyn Mallard – New York State Police, Troop T, Albany
Staff Inspector David McBath – New York State Police, Division Headquarters, Albany
Captain William Menge – New York City Department of Corrections
Lieutenant Brian Uhrmacher – Greece Police Department
Major James Szczesniak – Livingston County Sheriff's Office
Lieutenant Walter Teppo – New York State Police, Schenectady
Chief Robert Thomas – Fort Plain Police Department
Lieutenant Egidio Tinti – Kingston Police Department
Captain James Voutour – Niagara County Sheriff's Office
###