Internet Crimes Against Children Task Force Program
Nationally

In September 1998, with 10 awards to State and local law enforcement agencies across the Nation, The U.S. Department of Justice, Office of Juvenile Justice and Delinquency Prevention began a national program to counter the emerging threat of offenders using the Internet or other online technology to sexually exploit children.
Designed to encourage communities to adopt a multidisciplinary, multi-jurisdictional response to this threat, the Internet Crimes Against Children (ICAC) Task Force Program ensures that participating State and local law enforcement agencies can acquire the necessary knowledge, equipment, and personnel resources to prevent, interdict, or investigate ICAC offenses.
Under this program, ICAC task forces serve as regional sources of prevention, education, and investigative expertise to provide assistance to parents, teachers, law enforcement and professionals working on child victimization issues.
Policing in cyberspace presents new and unique challenges for American law enforcement. In cyberspace, traditional boundaries are ignored and the usual constraints of time, place, and distance lose their controlling influence. Because very few cases start and end within the same jurisdiction, nearly all ICAC investigations involve multiple jurisdictions and require extensive multi-agency collaboration. However, multi-agency collaboration is challenging. Federal, State,and local law enforcement organizations have legitimate, understandable concerns about initiating cases based on information that may have been gathered by other agencies.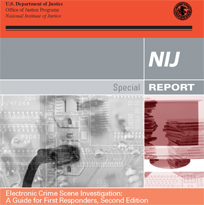 OJJDP has established operational and investigative standards for the ICAC Task Force Program through a collaborative process with the 10 original ICAC Task Force agencies and the Federal Bureau of Investigation (FBI); US Customs Service (USCS); US Postal Inspection Service (USPIS); US Department of Justice, Criminal Division, Child Exploitation and Obscenity Section (CEOs); and the National Center for Missing and Exploited Children (NCMEC). These standards are designed to foster information sharing, coordinate investigations, avoid duplication or disruption of ongoing investigations, ensure the probative quality of undercover operations, and facilitate interagency case referrals through the standardization of investigative practices. Collaborative undercover operations, when properly executed and documented according to the ICAC Task Force Program standards, can collect virtually unassailable evidence and, most important, allow law enforcement to bring a case before a suspect can victimize a child.
OJJDP's ICAC Task Force Program is administered through a shared management system that combines a national perspective with the local values of participating communities to address coordination and communication concerns related to ICAC investigations. OJJDP has established a review board, composed of law enforcement managers and prosecutors from participating agencies, to assist in the administration of this program.
The board, while primarily responsible for reviewing undercover operations for compliance with the ICAC Task Force Program standards, plays a critical role in assessing the needs of the field and in formulating policy for the national program. Representatives from the FBI, USCS, USPIS, and CEOs serves as technical advisers to the board.
In addition, OJJDP, in consultation with Federal law enforcement and prosecutorial agencies and NCMEC, has developed a certification course for agencies participating in the program. The course prepares ICAC Task Force investigators and managers to develop policies and employ proven investigative procedures in response to computer-facilitated sexual exploitation of children.
The program is currently composed of 61 regional Task Force agencies, either entirely or partially funded by the OJJDP.
New York State Internet Crimes Against Children Task Force
In September 1998 the NYS DCJS Missing and Exploited Children Clearinghouse successfully competed for OJJDP funding to establish one of the first multi-agency ICAC Task Force Programs. This resulted in a formal partnership between DCJS, the New York State Police (NYSP) and the NYS Attorney General (NYSAG). During the mid 1990's, the NYSP Computer Crimes Unit assumed responsibility for program administration. Each agency supports ICAC Task Force efforts through use of Federal and state funded staff members.
Primary responsibilities include:
Conducting investigations and prosecuting offenders.
Providing training for law enforcement officers and prosecutors.
Fostering statewide and regional coordination, collaboration, information sharing, networking and service integration.
Providing investigative and prosecutorial assistance to police agencies and prosecutors (e.g., forensic analysis of computers and other electronic devices seized as evidence).
Other efforts associated with this initiative include:
Developing and distributing informational materials needed to ensure that children, parents, other individuals and organizations are well acquainted with the issues, problems and availability of assistance.
Developing and distributing a child safety curriculum to law enforcement agencies and other groups which focuses on promoting child safety, with an emphasis on Internet crimes against children.
Send e-mail to Internet Crimes Against Children Task Force Staff (missingchildren@dcjs.ny.gov).